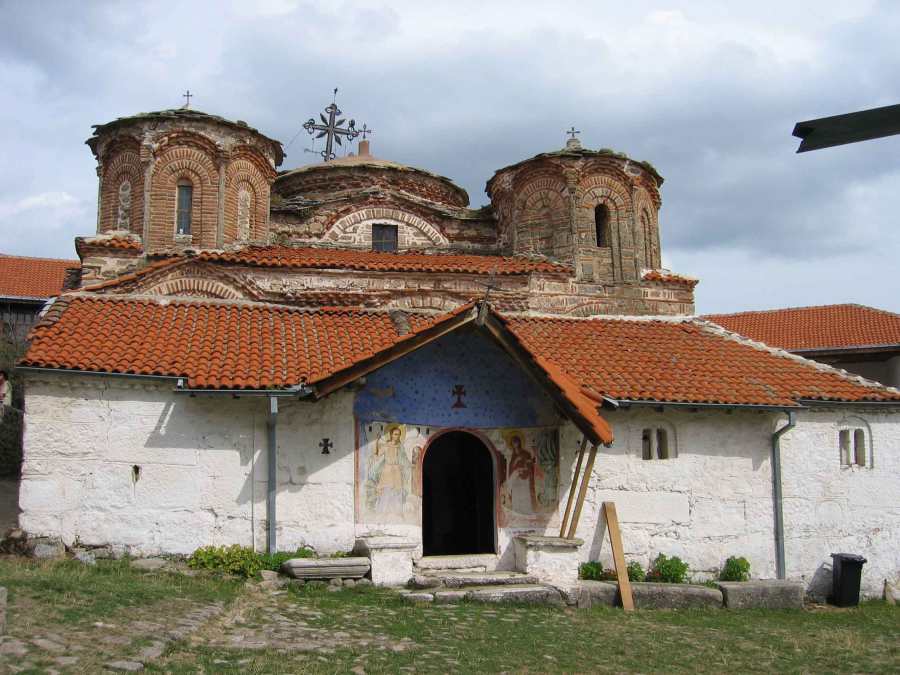 Prilep to the Monastery of Treskavec (12 km)
The Monastery of Treskavec lies about 10 km outside Prilep. It is built on the ancient town of Kolobaise (3rd century BC – 7th century AD).
The Church of St Bogorodica (Holy Mother of God) on the complex dates back to the 14th century, but was built on the foundations of a 6th-century basilica. You should take a flashlight to be able to see the frescoes and artifacts in the church. There is a rare fresco of Christ as a young boy, another one can be found in the Monastery St Bogorodica Eleusa near Strumica. There is a casket of skulls of seven monks who were executed by the Ottomans, along with 200 other monks.
The complex also has an old dining hall and an inn where you could stay the night. In February 2013 the lodging houses of the monastery burned down, but the church and old dining room were spared from the fire. Reconstruction may still be ongoing, so inform yourself well if you plan to stay the night.
The people in the monastery were very friendly and offered us a meal. Make sure that you have clothes that cover shoulders and legs if you want to enter, and to introduce yourself.
It is not without reason that this great place plays a central role in the famous Macedonian film "Before the Rain" by Milco Mancevski!
In 2005 we tried to follow the description in the Bradt Travel Guide Macedonia, starting near Dabnica, north of Prilep. The descriptions of hiking trails in the Bradt guide generally are not very easy to follow, and we also got lost during this hike. But we managed to reach the monastery in the end!
We walked back via the approximately 6 km long trail that leads to the Towers of King Marko near Prilep. King Marko's Towers are one of my favorite sites in Macedonia, you can easily spend half a day between these ruins! The trail between King Marko's Towers and the Treskavec Monastery is shown on the map below.
Nowadays there is an asphalt road leading all the way up to the Monastery of Treskavec. But where's the fun in that?